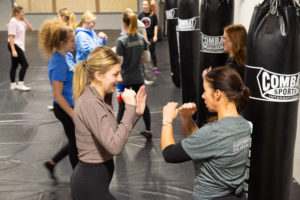 Lightning Kicks is a high-energy martial arts program that combines elements of kickboxing, Jiujitsu, boxing, wrestling, and taekwondo to provide a full-body workout that tones muscles and improves cardiovascular endurance. In addition to the physical benefits of Lightning Kicks, the program also offers a range of mental and emotional benefits that can help participants feel more confident, focused, and self-disciplined.
Some of the benefits of Lightning Kicks include:
Improved physical fitness: Lightning Kicks combines cardio and strength training to help participants improve their overall physical fitness. The program's fast-paced, high-intensity drills and exercises can help build strength, endurance, and flexibility, while also burning calories and promoting weight loss.
Increased confidence and self-defense skills: Lightning Kicks teaches participants how to defend themselves and handle potentially dangerous situations. The program's focus on discipline and respect helps participants feel more confident and self-assured, both in and out of the dojo.
Stress relief and relaxation: The physical and mental demands of Lightning Kicks can help participants release tension and stress. The program's focus on mindfulness and concentration can also help participants relax and clear their minds.
Improved focus and concentration: Lightning Kicks requires participants to concentrate on their movements and techniques, which can help improve focus and concentration. The program's structure and discipline can also help participants develop better habits and a more focused approach to other areas of their lives.
Enhanced coordination and balance: Lightning Kicks involves a wide range of movements and techniques that require good coordination and balance. The program's drills and exercises can help participants improve their coordination and balance, which can also have benefits in other physical activities.
Fun and socialization: Lightning Kicks can be a fun and enjoyable way to get in shape and meet new people. The program's team-oriented drills and exercises can help participants form friendships and develop a sense of community within the dojo.
Overall, Lightning Kicks is a dynamic and challenging martial arts program that offers a wide range of physical, mental, and emotional benefits. Whether you're looking to improve your fitness, learn self-defense skills, or simply have fun and meet new people, Lightning Kicks is an excellent choice.